Home • Arrival • Setting Up • Loire • Paris • Chartres
Holiday Greetings 2001

We send you late greetings from Place de Bordeaux
And hope that you will pardon our retard;
It's not so much that the (e)mail service is so slow
But taking time out of travel and play can be so hard!


The big news of last year's letter was, without doubt,
That a sabbatical year was ours to design.
We thought of our adventures when we were out
Of the country and felt that France would suit us fine.






Happily a place in Strasbourg came my way,
So we set about our planning and prepared
The house and yard so that our tenants could stay
In their own beds and in comfort unimpaired.


In July we came to France for a pied-à-terre
And found a furnished place to fill the bill.
Once we'd settled in we headed off to Par-
is: for the boys the train ride was quite a thrill.


We've written and posted to the net
Our triumphs and foibles over here;
A better year would be hard to get
And we're wondering how we'll adjust next year!?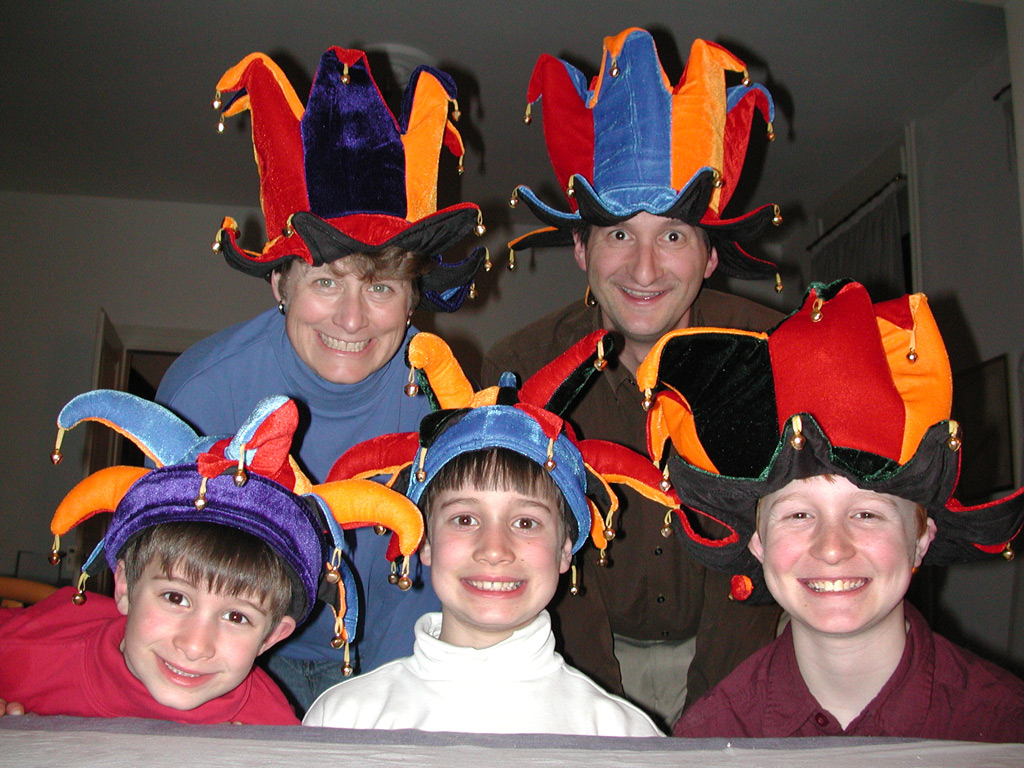 I will now descend (ascend?) into prose to admit my shame in sending this so late. We are just back from another trip, this time to Italy, and were greeted on our return with a stack of your letters, greetings, and queries: where is your card? Though it is fashionable to bemoan the annual "brag and gag," I remain unabashed in my support for this fine institution, whether mass-produced or not. I enjoy hearing what friends and relations are up to, and plenty of you clearly share the sentiment. For those true addicts/insomniacs for whom the present epistle falls short of an annual dose, the dormative virtue of our web site at http://saeta.physics.hmc.edu/France/ must be seen to be believed!
I think all our lives were altered on September 11, although it is hard still to know what the long-term changes will be. Our friends and acquaintances here clearly felt that the attack was on Europe, too, and their expressions of sympathy were very touching. However, inevitably folks here didn't feel as threatened as Americans, who appear to have circled the wagons and united almost to a person behind the President. Five months later the tensions people were feeling seem to be easing: the anthrax headache has receded for the while and can be put in the Waco box. The Taliban has been routed and the situation in Afghanistan appears to be calming down. The ACLU is opposing censorship and violation of Constitutional freedoms, and Washington is enjoying another juicy scandal (this time, one of legitimate political import).
Yet, trouble is a-brewing. Bush seemed not to care about the rest of the world before 9/11; then we were all one and in it together. Bringing prisoners to Guantánamo and denying them rights was a foolish way to conclude a successful campaign, ruffling European sensibilities. Now undiplomatic talk, curious threats, and an apparent disregard for both European views and the spiral of violence in the Middle East threaten to undermine the accomplishments in Afghanistan. America can no more retreat behind the wide oceans that once protected her from chaos in Europe and Asia. The world is now too small. Our only option is to increase our involvement in the world, to support development and humanitarian efforts in the Third World, and to broker peace. We must counter the image of a greedy nation bent on squandering the resources of the planet, willing to use our military might to protect that "right", by demonstrating a commitment to fairness and economic development throughout the world.
---
Okay, enough heaviness. We're all doing great, losing teeth (Brennan, Ethan and now Ryan), sporting cool hats from Carnival in Pisa and Viareggio, and generally having a blast. Strasbourg, as we are learning, is a wonderful place. It is right on the German/French border and is where the Council of Europe and the European Court of Human Rights meet. This year these organizations grew to 43 members and include every country in Europe from Ireland to Eastern Russia except Monaco, parts of Yugoslavia and some other place we can't remember right now. Linda heard Shimon Peres address the Council, fielding questions in French, English, and Italian without translation, and requiring assistance with Spanish and Irish. She also heard a case at the court.
We live on the northern edge of the city proper and in 20 minutes we can walk to center city or take the tram. Center city consists of a huge, beautiful, rose-colored Gothic Cathedral and lots of small cobblestone streets lined by buildings 100 to 400 years old. (The Cathedral started in 1070, but I think it is the only building almost 1000 years old). No cars are allowed, but expensive specialty shops abound. We walk to the Opera and Symphony Hall on the nights we have tickets.
We live in a two-bedroom apartment in a five-story building dating from the 1930s. The landlady left it furnished with a mixture of antiques and IKEA (the kitchen is super-modern) and we are very comfortable. We were relieved when the boys consented to spend one more year sleeping in the same room, since furnished apartments are not easy to come by and large furnished apartments are out of the question.
I'm working in a great lab with wonderful people, which I get to in the morning on the tram and bus (barring strikes, of course). Most days these aren't so crowded that I can't get some reading in during the commute, which is a treat. We are studying the time-resolved dynamics of electrons in metal nanoparticles, and hunting for photons to help us out in the process! Most conversations in the lab are in French, although meetings switch to English when necessary for visitors. I think my French is improving, but at my advanced age I suspect that it's too late for me to exorcise all errors of gender. Oh well. Somehow I never learned the French words for things like "wave plate" and "circuit breaker" in Togo, but I'm slowly filling in the holes. Our lunchtime conversations span the gamut from geopolitics to Renaissance art to Ramadan to linguistics to film (I usually have to get quiet for this last topic, but could kibitz about Harry Potter, which we all enjoyed).
The boys' schools are a couple of blocks from the apartment, so they don't waste too much time getting home for lunch! Their teachers have been fantastic and they are making good friends among their classmates. Brennan is in the first year of junior high school here and has 10 different classes, each meeting some days of the week so no two days are the same for him. The junior high and high school meet on the same campus so he is with 3000 other students, switching classes and just having a good time. All of his teachers have been so supportive and making special adaptations for his lack of French! Last week was conference time and I had a chance to meet with seven of the teachers and they all couldn't believe the progress he has made in learning French and they all had such warm feelings for him. His French teacher has even invited him to spend vacations with her and her family next year! He has several friends who regularly make it over here for lunch. Ethan has a first-year, very energetic teacher who did part of his teacher training in British Columbia. He speaks English well, which was a big help at the beginning, although he now says he does no translating for Ethan. He was the lucky one who will get a class field trip to the Alps for ten days in March for skiing (PE) and natural science hikes. He has a couple of close friends, one of whom has gotten very interested in rock climbing and he has gone to the rock climbing wall a few times with him. Ryan's teacher has been the hardest to get to know, but he is very happy in the class. He is reading well in French and will now correct my pronunciation. He also has a small group of friends and literally skips to class.
Linda is taking courses on the history of architecture (she's finally made it to the Gothic!) and advanced French, and gives the boys French lessons on Wednesdays (their day off). On Tuesdays she has tea with the spouses of visiting scientists and has almost decided which kind of tea to take (British or Continental). She has cooking lessons twice a month, and takes field trips to local points of interest twice a month as well. The group comprises Asians, South Americans, Europeans, an Afghani, and one American, and gives her a chance to practice her French (and diplomacy). Most Saturday mornings all three boys troop off for a half-day of school, and Linda and I hit a teahouse for a leisurely look at Le Monde and the International Herald over a cappuccino and croissant. Then it's off to the local farmers' market for produce, cheese, poultry, honey, and olives. We are definitely going to miss the fresh, intense flavors of food from this market.
We spent the summer visiting the Loire, Paris (where we stayed a month in a friend's apartment in the 13th arrondissement), Annecy, Kaiserslautern, Heidelberg and various slopes, castles, and forests in Alsace. Linda's parents joined us for a week and a half, which included a memorable trip to her father's grandfather's house in Kaiserslautern. My parents were due for a visit in November, but Dad had a mild heart attack in mid-October and the trip was postponed to April. In the fall we visited Munich, Salzburg, and Garmisch-Partenkirchen. Over the Christmas break we visited London, Oxford, and Bath, having a wonderful time with Linda's relatives in Brent Cross. For me a highlight was seeing Harrison's clocks ticking away at the Royal Observatory in Greenwich, and the boys especially enjoyed the London Eye and the Royal Airforce Museum. For the boys' February break we explored Parma, Rome, Florence, Pisa, Cinque Terre, Viareggio, and Pavia/Milano. Ethan fell in love with motorbikes in Rome, and Brennan fell in love with Italian cuisine in Florence. The hamburger kid now eats real garlic bread soaked in olive oil, spaghetti with (hot) red pepper sauce, bistecca Florentine, spaghetti alla carbonara, prosciutto cotto, and of course, dessert. Ryan got his wish to see Carnival and the Leaning Tower of Pisa, although we passed on the 15 Euro fee to climb up. And, the boys got to laugh at their father trying to speak Italian, so a good time was had by all!
We're going to tough it out here until July, and then straggle back to the States to enjoy the summer heat in Claremont. We wish you all a belated happy new year.
---
This page was last modified on Sat, Feb 16, 2002.