Home • Arrival • Setting Up • Loire • Paris • Chartres
Setting up in Strasbourg
Sunday, 8 July 2001
We are going to be moving into the apartment this afternoon, but as Linda warned us, everything will be closed all day. We decided, therefore, to get up a bit late and take the Number 2 bus out to see the Rhine. Some of us were impatient to get out and see the world, so we took a walk down to Place Kléber to see if anything was happening. Almost nothing. A few people were walking around, but it was really quiet. We found just one fruit stand that was open. A light rain fell intermittently, and it was just cool enough to make it hard to decide whether to wear a windbreaker.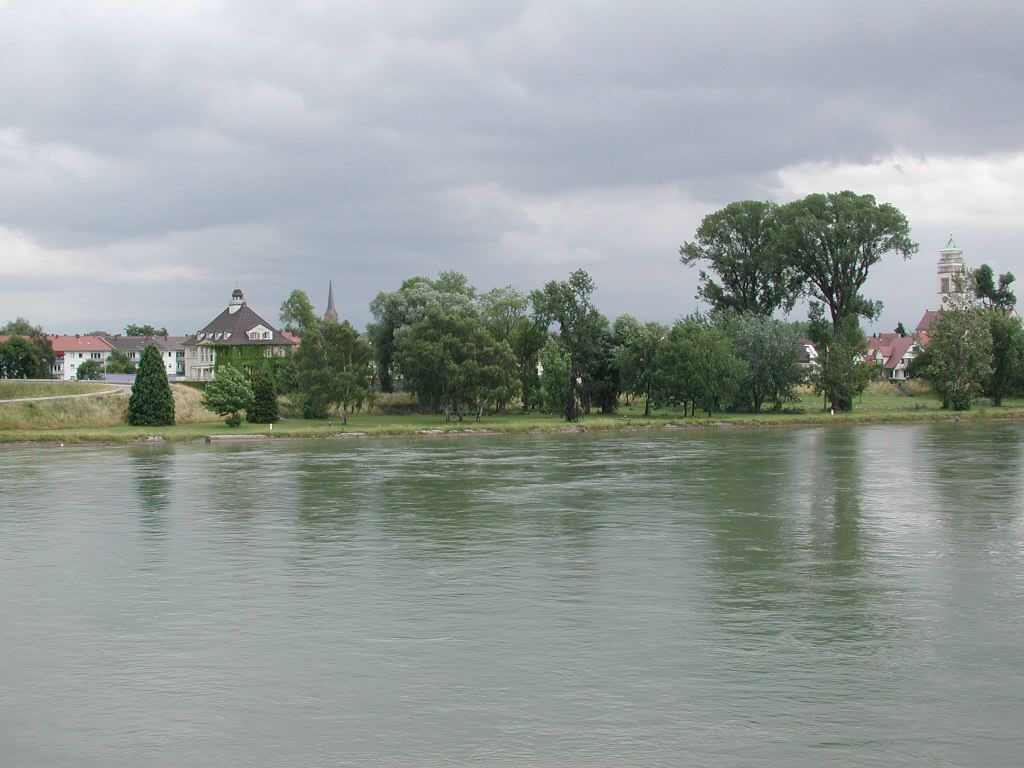 We set out for the bus at about 11:30 and rode nearly to the end of the line. There was a tourist information office there, and we picked up a little literature before it closed at noon. We then walked out over the Bridge of Peace between Strasbourg and Kehl, Germany. All along the bridge there are signs in many different languages featuring poetry about peace between the peoples on either side of the bridge—at least, that seemed to be the theme of the ones I could read. The river moves pretty fast here, on a quiet Sunday afternoon. Once across, not much changed except the place names got longer and the street signs got a lot harder to read. It was now past noon and we were getting hungry. Nothing seemed open, so we walked back over the bridge, looked in at a restaurant that wouldn't open until dinner, and caught the bus back to Place Kléber, where we found a few places open. A waiter skillfully coaxed me into one place with tables out front. We sat down, ordered some waters all around, and had a look at the menu. We couldn't find a thing for the kids to eat, so had to excuse ourselves and walk out. I guess this isn't the sort of thing that Mom and Dad had to contend with on their European travels.
We found our safety stop from the first night open, so bopped into Flunch to fill up, since there wouldn't be much dinner with everything closed on Sunday. Linda and the boys went for the roast chicken, whilst I adventured to try the special, which was rabbit. Quite nice. The big meal calmed the Sunday hungries nicely, and we returned to the hotel to pack up our carry on bags to bring over the apartment at 5:00. To be sure not to be late, we took an early bus and then walked around the block exploring while waiting for the appointed hour. Mme TAY buzzed us in and when I made it up to the 3rd floor (2ème étage) I was greeted with the news that « it was necessary to discuss the matter of the rent. » Great, I thought. We have brought a bunch of stuff, we are due out of our hotel tomorrow, and now the apartment will be yanked out from under us. «Oui, bien sûr madame.» Of course, we weren't necessarily shaping up to be the best renters, since we didn't have the money for the security deposit with us, thanks to Bank of America's screw up with the electronic transfer agreement.
As it turns out, Mme TAY had been ripped off by a nice-looking German couple once: they gave her a lovely check drawn on a German bank, which bounced. After three months and no rent she finally had them tossed. «You couldn't tell by looking at them that they were rip-off artists.» To reassure her that we would not follow that example, I pulled out $1000 in traveler's checks and offered to sign them over to her. Not knowing the relative value of the dollar, she was a bit reluctant. I then pulled out the record of the wire transfer that we had made in Claremont, which allowed her to calculate the exchange rate. The combination of having a French bank account with $1500 in it, and the $1000 in checks began to persuade her that we wouldn't take her for a ride, and she began to loosen up a bit. Still, we had to spend a total of 2 hours with the negotiations (she raised the rent from 7500 FF to 8000 FF to cover the added expense associated with having 5 people in the apartment, rather than the 2 she requested from the real estate agency) and more importantly, with the very detailed list of the contents of the furnished apartment. Fortunately, Ryan was tuckered out and fell asleep like a log on the floor of one of the bedrooms. The other boys were quite patient, but were really getting tired of the ordeal by 7:00 pm, when she finally wrapped up and left, fixing to come back at 8 am on Wednesday for the money.
As soon as she left, we opened up the windows and starting cooling the place off. It has some wispy "frilly things" over the windows that Brennan hates, but we wanted to be very sure to upset nothing before she came back Wednesday morning. So, we carefully tied them up to let the breeze through. We also decided not to move the furniture around before she came back, to help reassure her.
A Tour of the Apartment
| | |
| --- | --- |
| Let's start with the necessities. Here, the toilet is separate from the rest of the bathroom, which means that more of us can be "busy" at once, I suppose. Notice that the shower is of the French sit-down variety, which does take some getting used to. It's plenty large, mind you, but Linda and I aren't sure that we'll be remodeling to eliminate the showerhead at 2611 when we get back. We're a bit nervous about how much fun we'll have when it's really cold and you have to spend your time soaping in the chill air, without warm water washing over you. Well, c'est la vie. | |
| Here's the dining room with the male contingent ready for dinner. If I look pregnant in the picture, I'm sure it's a JPEG artifact. Those Moiré patterns are always so fattening. Try enlarging the picture. | |
| While we wait for a bed for Brennan, which we will borrow from an American family living in Strasbourg, he is sleeping in the living room. The TV is an old one, and gets only three French channels and one German one. Later, when we get cable, we may have to upgrade the television. | |
| And here's the well-appointed kitchen. While short on space, it is long on conveniences. We have an induction stove with four "burners," a microwave oven, a regular oven, a washer-dryer, a dishwasher, a refrigerator, and a freezer. Not bad at all. Counter space is a bit tight, but all in all, it's a pretty nice arrangement. | |
| Off the kitchen there is an enclosed veranda that looks out on the courtyard for the many apartment buildings on the block. The courtyard has some nice trees and an excellent view of drying laundry hanging out the windows of select apartments. The windows of the veranda open wide, making it easy to get a nice cross-breeze through the apartment. There is a couch for enjoying the view and it folds out for sleeping. We were thinking of bringing it in for Brennan to sleep on, but have decided it is better to borrow the bed from the Mattoxs. | |
Saturday, 14 July
The Tour de France took off from Strasbourg this morning, and we were hoping to make it down near the Orangerie to see the cyclists ride by, despite sleeping in a bit. Since our local bakery was closed for the holiday, we had to make do with what was lying around. Linda made eggs for her and me, and the boys had yogurt, bread, and jam. Then it was off to the races.

It was quite clear when we had made it to the bike route; there were plenty of people standing around, and plenty of gendarmes attempting to keep them off the boulevard. I couldn't help thinking that their work was more difficult on this side of the Rhine. Not that I blame the folks too much; it took a long time before anything of import actually got underway. The cyclists make a ceremonial ride through the town in a big pack, and the real race begins on the far side of town. I hopped up on a bollard and had a fine view of the pack of riders as they went by amidst cheers from the crowd (which was also pretty happy that it hadn't started raining, yet). Then it was like swimming upstream to get to the Orangerie for a stroll around.
It is a beautiful park, with carefully tended gardens that are wonderfully green and floral this time of the year. On the several chimneys of the Pavillon Joséphine there are stork nests, each with several birds, and we watched in fascination as they leaped off and set about staying airborne. They are amazing birds.
It was just beginning to rain, so we hightailed it home to be ready to receive the bed for Brennan. As it turned out, the Mattoxs had been out watching the Tour de France and weren't ready, so they put off the delivery until 5 pm. Linda and I started the read, and the boys got bored, so we suggested they take themselves to the park, which is about a block and a half away. I think they are beginning to feel comfortable here, since they made it there and back, and negotiated the doors at the street and the apartment, too.
We set the bed up at 5 and then headed out to see if there were any Bastille Day celebrations to see. Because of the 11 deaths from the tree that fell last week on some concertgoers taking refuge from a sudden storm, the normal fireworks and parade were canceled this year. As we headed to the Cathedral, we noticed lots more French flags than normal, but not a lot of carousing. There were plenty of folks at the Place de la Cathédrale, and after one false start finding a place to grab some dinner (they were all out of food), we decided to return to an Italian place that had done well by us last week. After pizza and pasta, it was time to brave a light rain to wait at the Cathedral for a 9 pm organ and trumpet recital. Talk about your reverb. We figured it took at least 8 seconds for the last notes to die away at the end of each piece. I especially liked a Toccata for grand organ by Léon BOELMANN (1861-1897), which was really dark and menacing. For an encore, the two organists played a rather chromatic set of variations on the Marseillaise, which I kept expecting to resolve into a harmonically clean version to rouse the faithful on Bastille Day. Oh well.
---
This page was last modified on Sun, Aug 19, 2001.