Home • Arrival • Setting Up • Loire • Paris • Chartres
Châteaux de la Loire
The Gare d'Austerlitz has machines for selling train tickets for those in a rush and who do not need the aid of a real humanoid; our friend Geneviève had called just as we were heading out the door, and so our margin for catching the next train to Amboise in the Loire Valley had evaporated. I set upon the first machine that opened up and did battle with the menu system, which seemed never to tire of asking follow-up questions. « First class or second class? » « Reserved seats or not? » « Smoking or non-smoking? » « Desired departure date? » « Full fare, senior discount, child, what? » ... After nailing down the tickets for immediate departure and preparing to insert my bankcard, I was sent to Purgatory: « And about the return trip, monsieur ?» I made it through the second litany a bit more hastily, and then pulled up lame with my bank card, which it didn't like. In desperation, I tried the card for my French bank account and discovered I had misplaced the paper with my secret code. I guessed and heaved a sigh of relief when I got it right. A sprint to the track (the farthest one, of course) and we made it aboard just in time.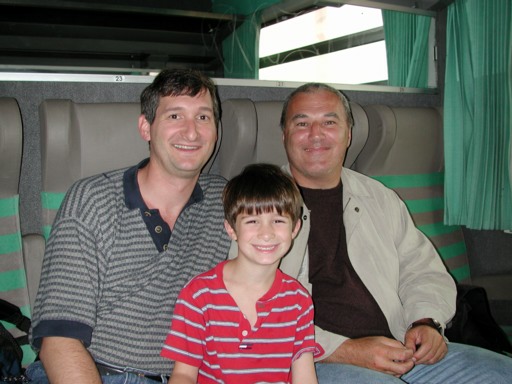 The train was fairly full, but we found a cabin for 8 people with a single person in it. He was happy for the company and we struck up a conversation with M. Guy GROSSELIURES, who was returning home near Chambord. The conversation ranged far and wide, and it must have been pretty boring for the boys, who couldn't understand much of anything, but they kept themselves amused with their books and Game Boys. The train makes a stop in Orléans, where it actually reverses direction to take a westward track down the Loire Valley. Guy hustled the boys out to the back of the train to watch the rain and what was happening in the station. We saw the new locomotive creep back until it bumped our car, and then watched as the hoses for the brakes and the electrical connections were established. Not such a fun job in the cold rain.
Guy was extremely friendly and invited us to his house for an afternoon snack if we were planning to visit the castle at Chambord. He has an 18-year-old daughter who is heading off to Tours in the fall to start legal studies, although she fears she is too young to go straight through, having never failed. This comment reminded Linda and me of Togo, where it was common for students to fail a grade and have to repeat it, especially if the grade ended with a national exam. In a good year, only about 25% of the students trying to pass the high school exit exam, the baccalauréat, succeed. We thought that the high failure rate was peculiar to Africa, and undoubtedly it is lower here, but his comment made us think that sailing straight through is not nearly as common as it is in the States. We'll have to chat with others about this.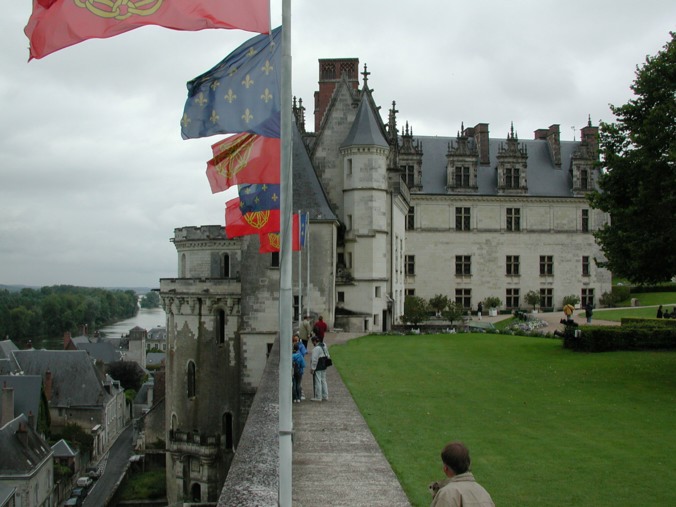 As we sailed down the valley, stopping occasionally at small towns, we kept hoping the rain would stop, but it never did for long. Still, when we arrived in Amboise it was raining only lightly and we started the hike from the train station to the castle, stopping at a bike shop to see about renting bikes. After waiting awhile for the propriator to show up, and noticing that it looked more like somewhere you could buy a bike or motorcycle than rent one, we continued on our way, heading to town and another bike shop for which we had a flyer from the train station.
The town is postcard perfect, with tiny streets, loads of charm, plenty of junk for tourists to buy, and the castle. Michèle had reserved for us a night at an inn a bit outside town, and we didn't want to head out there to be stuck for the rest of the day. Unfortunately, after walking up and down the main street looking for the side street with the bike shop, then coming back again very near where we began, we found that although the sign promised he was open 7 days a week, the shop was very much closed. Nothing to do but see the castle, so off we went, happy that the rain had stopped.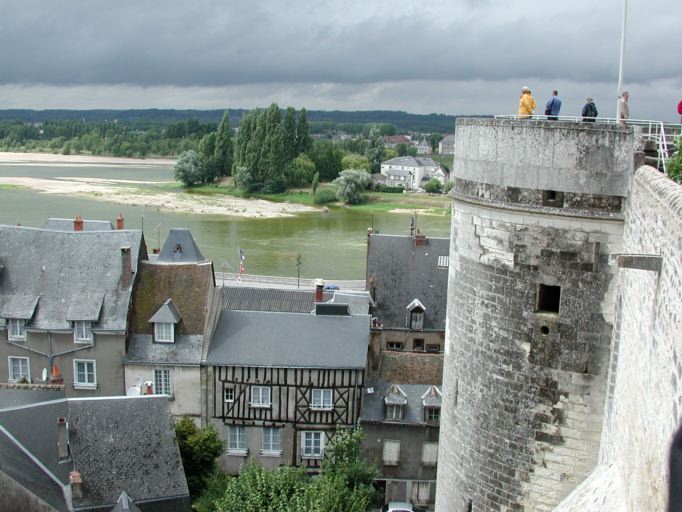 We were too late in the day for an English tour, so we hustled through the castle fairly quickly. This castle seems to have been used for defense and governance, unlike many of the play houses along the river, and as such was not nearly as lavish and gaudy as places like Chenonceau and Chambord. As we were strolling in the garden, it began again to rain, and this time it seemed more serious. We ran for cover in the castle and waited for the downpour to pass, giggling at how absolutely sopping we would be out on bikes in such a torrent. Ever the boy, Ethan was ready to plunge into the storm, reasoning that it was not likely to get better and we might as well get on with life. To his disappointment, the old farts prevailed and the storm subsided in fifteen minutes or so. We gathered up our bags and headed down from the castle to look for a taxi to the Bonne Étape.
Michèle's instincts were good, and we were delighted with the rooms she had reserved for us. It is a small place with about 8 rooms and a restaurant. It being too early for dinner, we tucked into a lovely nap before getting as gussied as our travel clothes allow for dinner. The restaurant was lovely; I don't remember all we had, but it sure was good. T boys were happy to point out (with Linda's insistence, of course) that Dad had ordered from the piggy menu (mais ç'a été le gourmet, non pas le gourmand !). With all the courses, Linda and I had no trouble at all polishing off a nice bottle of wine from the region during dinner. This traveling business ain't so bad. Plus, as you can tell from the photo taken on the hotel balcony, the rain had stopped. We had high hopes for a bike ride to Chenonceau the following morning.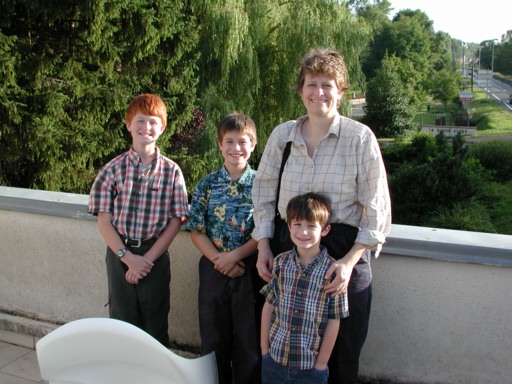 Wednesday, 18 July
We called ahead from the hotel to make sure that the shop would be open. Indeed, and he confirmed that he had a bike small enough for Ryan. The morning was cool and gray and the clouds, unable to decide whether to rain or be gone, spat on us from time to time. The lady of the hotel volunteered to dry us to town, and we were soon at the bike shop crossing our fingers that it wouldn't rain too much.
The bike for Ryan was perfect, tiny as can be, but with nice hand brakes and gears. Linda and Ryan set about testing it out in a little alley while the older boys were being set up with their bikes. Ryan was none too happy about the rain or about the hand brakes, as he was used to coaster brakes (and even more used to riding the Hitchhiker on the back of my bike). It took a few tries to get him going, and just when it looked like he was doing well, he got scared and crashed into a wall.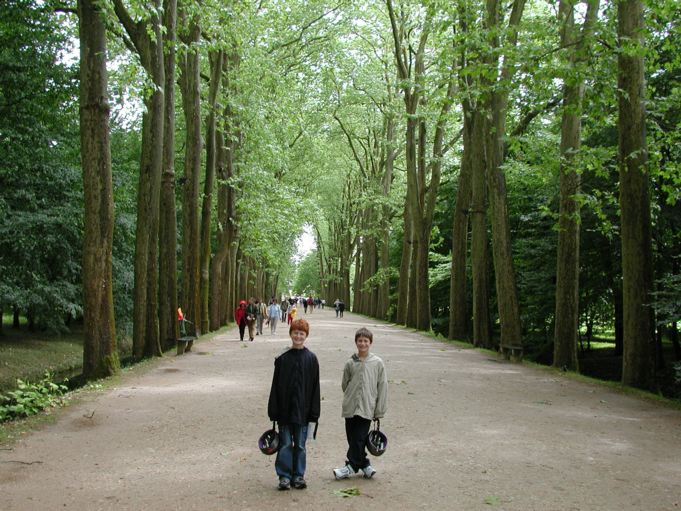 Linda came in to get fitted and sent me out to build confidence, which was not easy. Somehow we all got outfitted, tires pumped, helmets buckled, and bags stashed at the back of the shop, so we headed out for the « bike path » to Chenonceau, cameras stuffed beneath my windbreaker to try to keep them dry. Chenonceau is about 10 km from Amboise, on the Cher, and so there was some modest climbing to do to get out of Amboise and on our way. Not a good recipe for Ryan. After walking some, riding some, and cranking some, we had managed about 3 km in about an hour, which was not going to get the job done. It had started to rain harder, and it looked like no fun to noodle along only to be stuck in the middle of nowhere when Ryan gave up. Linda had visited Chenonceau sixteen years ago on the way back from Togo, and decided that it would be better for everyone if she and Ryan turned back and visited the house in which Leonardo da Vinci spent the final years of his life, which we had passed on the way out of town.
The senior boys and I made good progress then and rode through the forest, past a farm or two, and into a storm or two. When the rain stopped, though, we would dry out pretty well as we pedaled along. Within 40 minutes or so we had arrived at the castle and bought sandwiches to have a quick lunch on the grounds. It wasn't raining much as we walked down the grand tree-lined allée on the way to the castle, and we munched our sandwiches as we admired the castle from the grounds.
Figuring that they wouldn't be happy with our eating inside, we checked out the elaborately sculpted gardens, and were at some remove from the castle when it began to rain again. We ran to the castle entry and the boys laughed at their drowned rat of a father, trying feebly to put some semblance of order in his thinning hair with a comb. When we had dried off as much as we were likely to, we started touring the castle, which was much more luxurious than the Amboise castle. This castle seemed made for entertaining, with kitchens and servant quarters that wouldn't quit. The castle is built over the river, and from trap doors in the floor one could fetch water from the river without even leaving the kitchen! Centuries ahead of their time.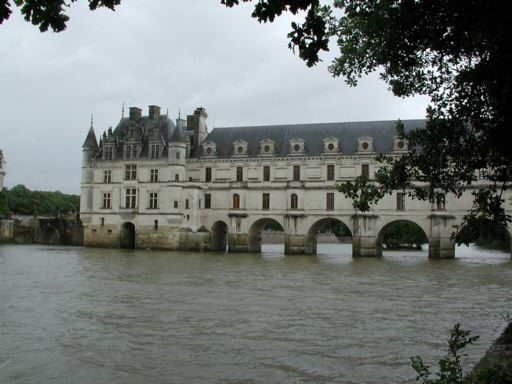 The galleries extend over the river, forming a beautiful and practical bridge that has large rooms for entertaining, and which served as convalescent hospital to over 2000 soldiers wounded in World War I. Currently, one floor serves as an art gallery, but none of us was particularly impressed with the current exhibit. We crossed to the opposite side to take this picture of the castle, and then decided to head back to rejoin the others. Unfortunately, just as we were leaving the town of Chenonceaux, I discovered my rear tire was flat. We had just passed a service station, so we walked back and managed to get the tire fixed for slightly more than half the cost of the rental. Oh well. At least we had a break for a drink. Back on the road we had a bit of rain, but nothing too bad, and things went smoothly until Ethan's chain fell off near the end. He and Brennan got it back on and we were soon back at the bike shop, where we were handed a note from Linda. She had decided that the weather was supposed to be poor again the following day and that we should go to Tours for the night, so she made a reservation (with some difficulty, she points out) at a one-star hotel near the train station. The bus would leave at 17:30 and she hoped we'd be back in time (it was about 16:00). With logistics settled, I couldn't derail the boys' request for ice cream and we enjoyed a little refreshment until it was time for the bus.
---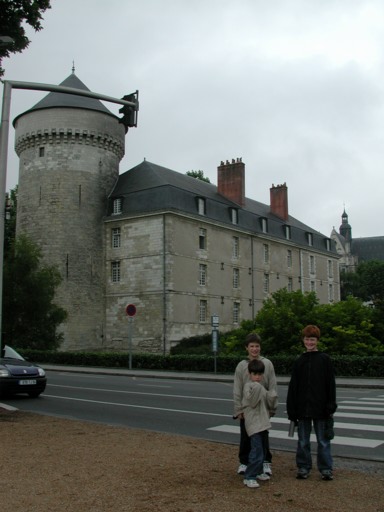 The hotel was not far from the bus station, and after checking in to the rather modest digs (so this is what one star means!) we headed out to Place Plumerau, the student section, for some dinner. Along the way, we stopped in at a foreign bookstore to look for something for Brennan and Ryan to read, ending up with Animal Farm for Bren. The restaurant we ended up at was a notch down from our Hotel-Restaurant in Amboise, but passable enough. I ordered andouillette for one course, not being quite sure what that was, and Linda decided to be more cautious. She felt vindicated when we found our French-English dictionary: a small chitterling sausage. Oh well, it went down fine.
On the way back to the hotel, we stopped in at a cybercafé and were happy to find one computer with an American-style keyboard. For 10 FF we checked our e-mail and made a couple of replies. Then back to the hotel and Ryan's supreme sacrifice to his father: the beds in this place were awful and I was afraid I wouldn't be able to move if I slept in one of the doubles. Even though it was Ryan's turn for the single, he let me have it and slept with Ethan, Brennan bunking with Linda. This allowed her to monitor complaints that Brennan hogs the bed. Nothing like two first-borns sharing a bed!
Thursday, 19 July
Thanks to Ryan, I woke up a bit stiff but still able to move. Linda's back hurt and we all decided that we liked two-star hotels a whole bunch more. We showered and it was time to get rid of that two-day stubble on my face. I had forgotten my shaving equipment in Strasbourg, and we managed to buy some cheap disposable Bic razors (for my cheap disposable face) while waiting for the bus in Amboise. Unaccustomed to this implements of war, I set about my task with excess vigor and tore a sizeable gash below my lower lip. I felt like a young lad again, although I wouldn't rush to wake Ponce de Leon from the dead. I think the boys were happy not to be shaving quite yet.
After breakfast of bread, croissants, coffee (and chocolate for the boys), we set out to reserve a place in Blois and to see what sites Tours had to offer. The first place I called in Blois had a suitable pair of rooms for us, so that job was quickly dispatched and we headed across town to the Loire. It was still chilly (16°C) and overcast, which did not set off Tours in the most favorable possible light. The bridge wasn't much, but we walked over it, found not much on the other side, and came back to the castle and its aquarium. Compared to Monterey this wasn't too exciting, but there were some interesting fish and a troop of French kids being chaperoned through the exhibit. Sadly, the sea horses had died three weeks previous and had not yet been replaced, but we saw plenty of pretty tropical fish and it was a pleasant diversion. After this, we headed back to the train station, where we missed the train to Blois by 7 minutes. Oh well, time to sit and write in the diary until the next train.
---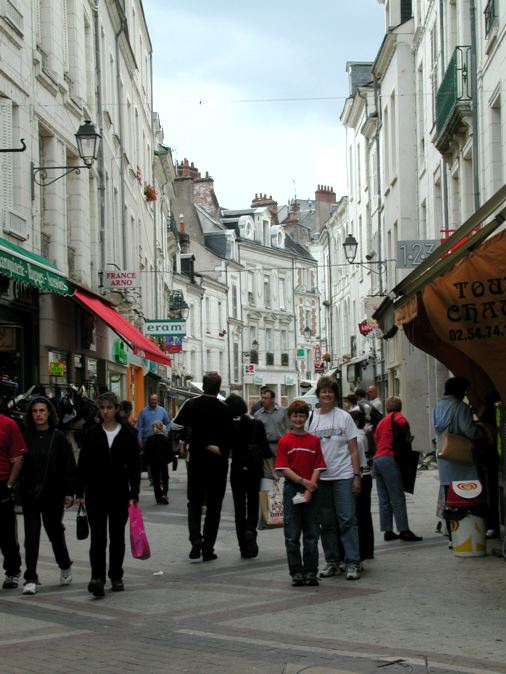 It is a short train ride to Blois from Tours and our two-star hotel, Anne de Bretagne, was a short walk from the train station. We checked in and were relieved at the superior quality of the accommodations, we set out to find a bike shop for the following day's ride. As far as we could tell, there were two in town, neither very close to our hotel. We walked through town and over the bridge to the shop on the opposite side of the Loire, but were a bit put-off by the reception we got there from the shop owner. He seemed unable to help us with our concerns about Ryan riding on well-traveled streets and we left the store hoping that the other one would be more to our liking.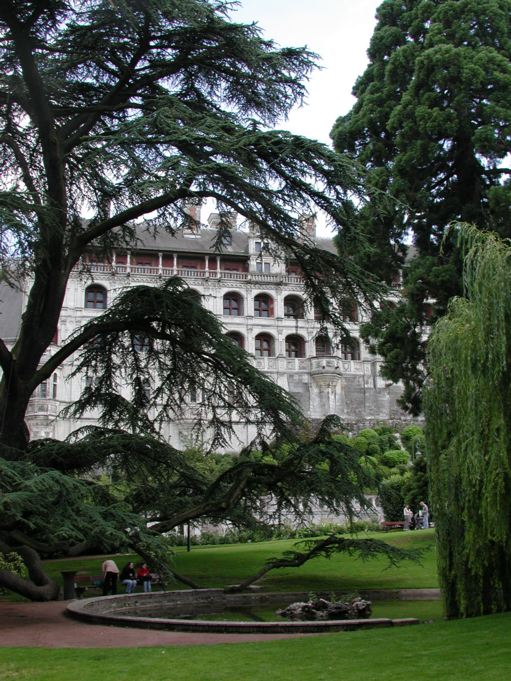 We wandered around quite a bit looking for a dinner spot in the areas recommended by the very nice hotel manager, but decided we weren't worth the prices that most of them were charging. We ended up at a café-brasserie near the river, eating outside and enjoying the much-improved weather. The food was so-so, but we were pleased that Ethan summoned the courage to ask the waiter for directions to the W.C. Emboldened by Ethan's prompt success, Brennan then decided to hurry the waiter, who seemed distracted, with my coffee order. When two coffees came instead of one, we had a wonderful opportunity to discuss the differences between de (of, from), du (some, of the), deux (two), and des (some, of the [plural]). To American ears these can be a challenge to distinguish.
Friday, 20 July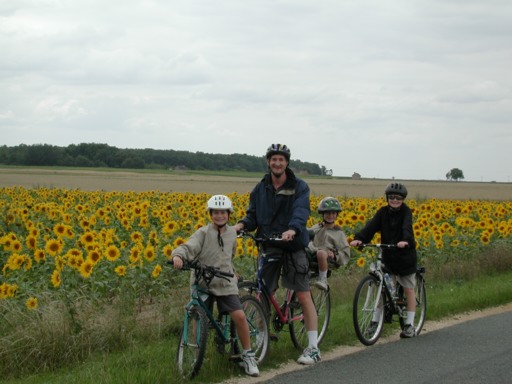 We awoke with a bike ride on the agenda. Somehow, the boys seemed slow getting up and the croissants and hot chocolate went down only after cajoling. Ryan was no doubt nervous about the ride. The sky was clear and it looked like a great day for bike riding. How far Ryan would be able to go, especially on narrow roads with cars, was very unclear.
The walk to the bike shop was long and we arrived a bit after 9:30. The French don't seem to believe much in signage. We knew exactly the address of the shop, we saw the sign to turn off the Tuileries, and we still walked right by the shop, which had not yet opened and had the metal security curtain lowered. We looked around to be sure we were in the right place, and as we were stewing over what to do, the owner walked by and saw us in front, so came through the shop (eventually) to open up.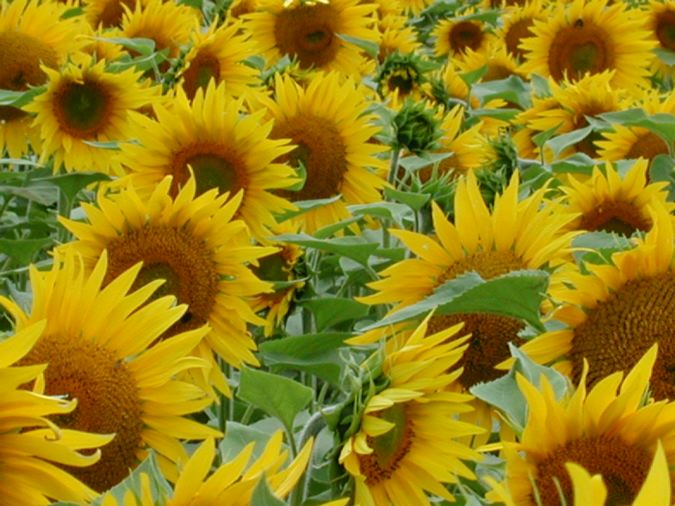 He brought out a small bike for Ryan and put the seat down, but when Ryan got on, wobbled, and expressed his fear, the man took the bike back and said he wouldn't rent to him—he wasn't ready to ride on the streets here and insurance is only good until you need it. As I stood there wondering how to explain to the older boys that we couldn't go riding because the owner wouldn't rent to Ryan, he came out from the back of the shop with a kid's seat that would go on the rack on the back of my bike. A big smile came over Ryan's face, and when he told Ryan that he would give him an « aiguille » for my butt, Ryan smiled even broader (whether he understood or not). He was clearly relieved at the idea of riding in high style and his brothers were happy to get to bike.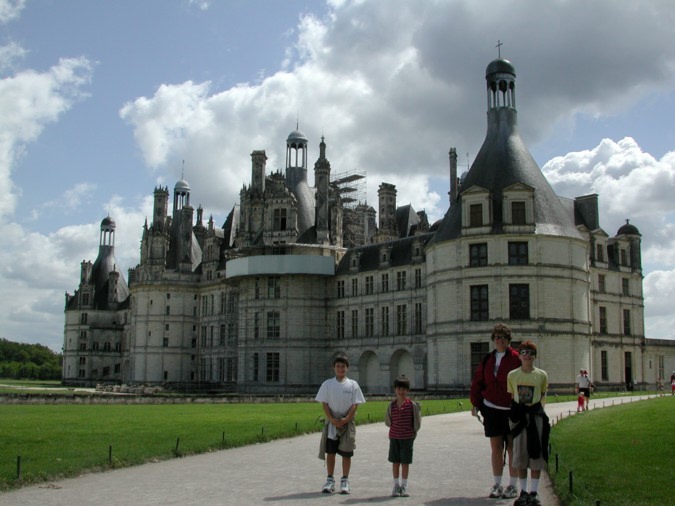 I wanted to see Chambord, which is 16-20 km from Blois, depending on the road, and we all seemed game for the ride. The storeowner gave me directions, but I'm sure we took a wrong turn somewhere and ended up following a different route at the end than he intended. In any case, it wasn't heavily traveled and we had a great ride through fields of sunflowers, corn, wheat, grapes, and many other crops, and through several little towns, too. We arrived at the castle at 11:30 and found that an English language tour would begin at 12:30, which was perfect. We had enough time to buy some sandwiches, take a little rest from biking, and get tickets for the tour.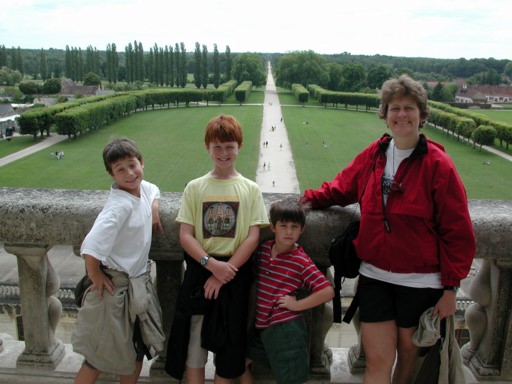 The tour lasted an hour and a half, and the guide had a very thick French accent, " Yes? " but the boys seemed to follow it well and Ethan especially stuck very close and caught everything. He even asked a number a perceptive questions ( Why did the French kings build so many castles here in the Loire Valley? )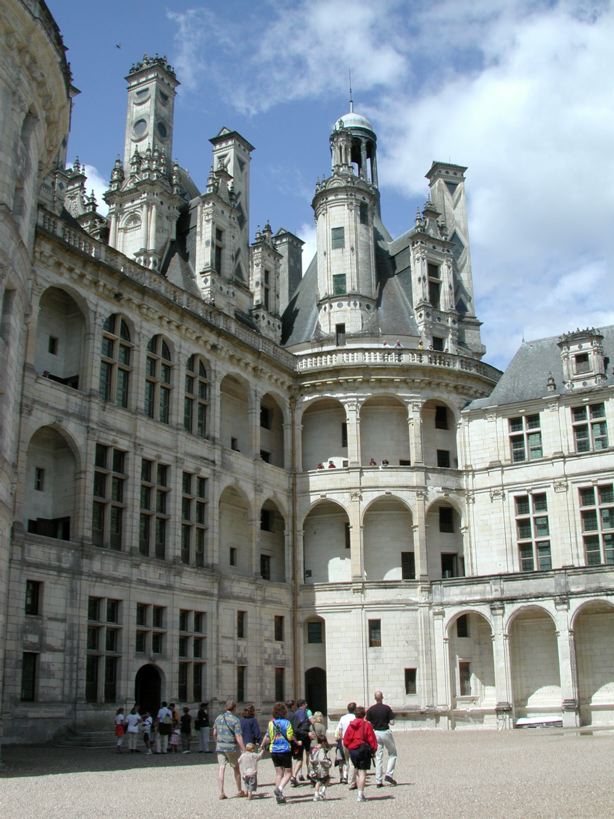 The chateau is incredible, showing the influence of Italian openness and decoration. Leonardo da Vinci is presumed to have designed the amazing double spiral staircase at the center of the keep. People taking opposite routes between floors can see one another several times along the way, thanks to the graceful open design, but meet only on their arrival. On the tour we learned that the immense castle, with 365 fire places, 73 staircases, and umpteen large rooms would house 6000–10,000 people in the royal court, who would move from castle to castle, bringing much of their furniture, tapestries, and bedding with them. The castle and grounds were, essentially, a hunting lodge for the king and his entourage. François 1er was such a fan of hunting, you see, that he needed an appropriate playground. The extensive grounds are entirely surrounded by a wall over 30 km in length, to keep in all those wild boar, deer, and other large game that the French kings loved to hunt. The opulence of the castle was supposed to suggest to Holy Roman Emperor Charles V and to England's Henry VIII that France was a sovereign power to be reckoned with, and apparently after visiting Chambord Charles V was on good terms with François—for a few months. Thereafter, it was back to battle for the rest of his reign.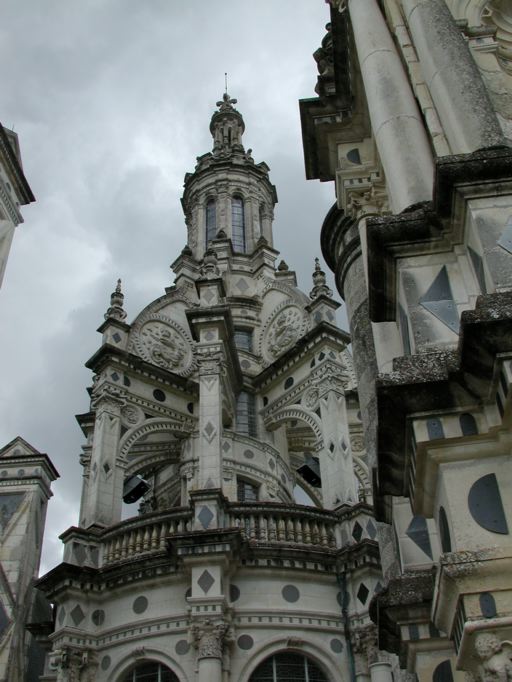 If you are going to be stabling 6000–10,000 of your most necessary courtiers, you are going to need lots of room. Of course, the king's quarters were most ample and luxurious, with a canopy bed at least 15 feet high. The queen had her own bedroom, which is probably easy to understand, given the attitude towards bathing. On this tour we were reminded that during his long life, Louis XIV had something like seven baths, it being thought that bathing had a deleterious effect upon the skin. Now, I know that the Romans built baths everywhere, because all the books on the history of France point out that each old town had its amphitheater, forum, and baths, so it seems likely that the Romans understood how to wash. What happened to this knowledge? The tour guide was not helpful in figuring this one out. She did mention, however, that the lower-class courtiers were packed in upstairs, above the level where windows were paned with glass. The floors were strewn with fresh straw, which helped make them more comfortable against the cold and brought a "sweet smell" to those rooms filled with the unwashed masses.
We followed the suggested route on the ride back, which went smoothly if a bit more slowly, given the headwind. After returning the bikes and hiking back to the hotel, we had a lovely nap. At dinner, Brennan and Ethan each ate two dinners and were still hungry; Ryan, somehow, hadn't worked up quite as large an appetite! Over dinner we decided that we had "seen the Loire" and were ready to return to Paris, provided that our train ticket could be advanced a day.
Saturday, 21 July
After breakfast I confirmed that our train ticket was valid on Saturday, and then we headed across the street from the hotel to the Chateau de Blois for a quick tour. This castle is one of the oldest, although like the rest, it was built and added to over quite an extended time. You enter in a great meeting room where the first États généreaux was held and where a modern piano demonstrated that a summer concert series was being held. The stained glass showed off the porcupine (Louis XII) and the salamander (François I) we have come to expect, but one boy wondered why the panes were identical ??
The self-guided tour showed off some very early archeological artifacts and gave some indications of customs and textile production in medieval France. In one of the fine large halls there was a case displaying coins dating back to Charlemagne. Unlike Chambord, which was a pleasure palace, Blois seems to have been where some real governance took place, including the meting out of justice and the gathering of the nobles for conferences with the king. In a bedroom upstairs, the Duc de Guise was assassinated and the castle is justly celebrated.
---
The train ride back was uneventful, and we hiked a bit extra on the way back to avoid some of the Métro smells that were giving Linda a hard time. The apartment smelled fresh and clean, and three out of five lay down for naps. Brennan and I headed out to shop for dinner and to keep us fed on Sunday, which we expected to be a slow day.
All in all, our trip to the Loire was a great success despite the rain, we all heard a lot about François Ier and are curious to know how he managed to build or enhance so many opulent palaces for his amusement, and why it was really necessary. I had no idea that François Ier was responsible for bringing Leonardo da Vinci to France when he was in his 60s to live his final 3 years in the Loire Valley, and that this is how the Mona Lisa ended up in the Louvre. The Loire trip pointed up the need for us to find a genealogical chart of the French monarchy, and a pithy description of the accomplishments (and villainy) of the various Louis, Henris, and François before the celebrated shortening of Louis XVI, an event which has left quite an impression on the boys.
---
This page was last modified on Sun, Aug 19, 2001.