Home • Arrival • Setting Up • Loire • Paris • Chartres
The End of Summer

Trip to Kaiserslautern

Trip to Annecy
The First Week of School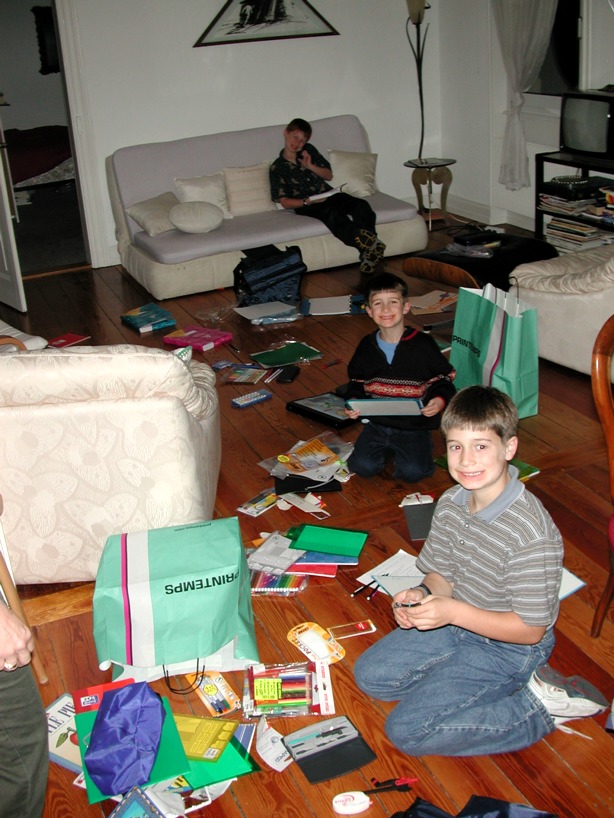 Well, the first week at work and school is under our belts and things are going very smoothly indeed. Well, not absolutely without glitches, but better than could be expected. Brennan's first day of 6ème was Wednesday. This is the first grade in middle school here, so all the kids were entering the school for the first time. We quickly found his name on the list of the sixth class of 6ème and waited for a sign to be stapled to a tree to show us where he should line up. After quite a long while (Linda assures me that the start of school is as disorganized here as it is at home), the sign was posted and we shifted a few feet to be in the right place to continue waiting!
Eventually, the teachers (they call them professeurs here) came out to find their flocks and a quiet, kind-looking fellow wandered over to Brennan's tree and waited for the kids to calm down and listen. He then called roll, and thanks to his position near the end of the alphabet he was able to observe the appropriate manner of indicating his presence when his name was called. There are only 24 in his class, which has got to be smaller that he would have in the States. After this, we confirmed when he would be dismissed (11:15 the first day) and I headed off to work. Linda hung around for another forty minutes or so and picked up his package of books to bring home. The rest of the morning went pretty smoothly, and Brennan sat next to an Indian boy who spoke English and could translate some things for him. Basically, he had to copy down his schedule and meet various profs as they trooped through.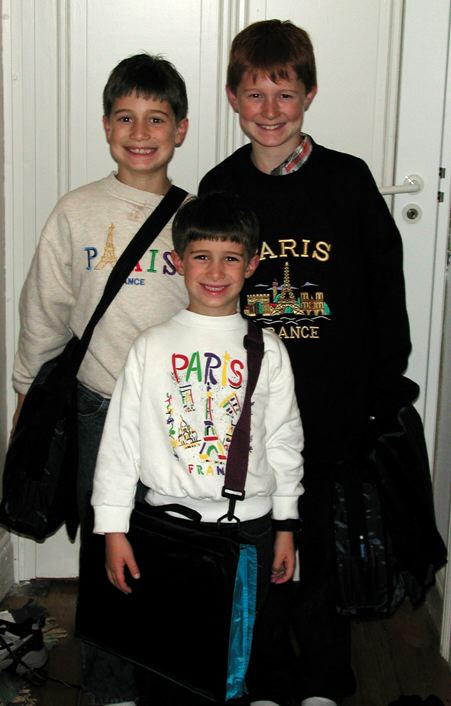 The next morning, it was Ethan's turn at 8:00 (Ryan got to wait until 9:00), but Brennan didn't know where he was supposed to go for EPS (Phys. Ed.) so I went with him to sort out a few things with his schedule and find where he needed to report for sport. The secretary pointed us in the direction of the track and so we headed out to look for his class. Since the school is both a junior high and high school, there was a range of kid sizes and we wandered around looking for kids Brennan's size that might have familiar faces. Eventually we found them, and soon thereafter M. François showed up and we had a little chat. « You are the father of the American ? » « Oui, bonjour. Vous êtes M. François ? » Turns out he had had a nice vacation in California, visiting and hiking in Sequoia and Yosemite, so we chatted a bit about that before he decided he had better take care of his charges. I left Brennan to head over to meet Ethan's teacher, but as I got close to his school I saw Linda and Ryan walking to meet me. Ethan has a nice male teacher who speaks English. He was already happily ensconced in CM1 (4th grade) and had dismissed his mother and brother. Ryan's turn was still 40 minutes away, so I left for work.
Apparently, he was calm and happy until the moment came for Linda to leave him. Then tears welled in his eyes with the stark realization that he was alone in a class with a teacher who speaks no English. Still, the morning went okay and he calmed down and participated in the drawing exercise, using his pen since he hadn't brought his crayons. When the teacher saw his work, she arranged that he could borrow crayons from his deskmate. No harm, no foul. Since the curriculum for the rest of the week seemed to focus on coloring, little by little he began to feel more comfortable, even though he can't expect any English help from his teacher. Ethan left school the first morning reporting, « J'aime l'école ! » (I love school.) Gee, that wasn't tough!
On Friday I worked at the apartment, so I could bring the younger two to school with Linda. Ryan insists that we wait until his class lines up and marches into the building, and wave as he disappears. As Linda points out, with the weather turning colder this little tradition will be replaced. This week it has been rainy and very fall-like, unseasonably so. Since the heat won't be turned on in our building until October 1, we are hoping for some more sun before then!
Brennan has it toughest, with a challenging schedule, moving around, lots of different teachers, and a curriculum that is picking up. For the first time in his life he has to take a test that he is guaranteed to fail. Somehow he is not up to snuff in French. Even though we explain this and he understands that is no reflection on him, it still isn't fun. I had written an little letter of introduction for all his teachers, explaining that we will do what we can at home and would be grateful for suggestions from his teachers. Fortunately, his French teacher took advantage of this information, sending us an e-mail message after the first class explaining that Brennan seemed discouraged but that he seemed like a nice boy and that the entire "team" of teachers would help him out. Meanwhile, she recommended he watch more television and read some BD (bande déssinnée, a.k.a. comic books). The next evening she sent another e-mail message with the material she would be covering in Saturday morning's class, and I spent some time going over the reading with Brennan Friday night so he would be prepared. Happily, Saturday's class went much better for him, so I think we will be able to smooth the way by previewing things with him.

More thoughts on the first week
The First Week of Work
When I started at Bell Labs, the first day was spent filling out forms, getting my badge, and setting up a desk. I more or less figured things would be similar here, so I brought all my papers (passport, receipt for my visitors card, bank information, etc.). Well, there was nobody at the reception to do the badging business, and then it turned out that the person who has that job has fallen down on ordering badges, so even when he gets back there won't be any badges. So to get in and out without walking a long way around, I have to time my entry and exit to coincide with the cars, so they will open up the gate. There weren't keys available for the office, but the secretary let me in. So, I sat at my desk reading papers and waiting for developments. We had a group meeting after lunch in which I heard an earful about what is going on in the group and what projects are on the horizon. I suspect that after a few months my ears will be more accustomed to technical French, but I really had to concentrate hard to follow what was going on and felt in no way ready at the end to inform Jean-Yves which projects I wanted to work on. Furthermore, I don't want to step on others' toes, so felt it better to read back over my notes and discuss with individuals what's happening on the various projects.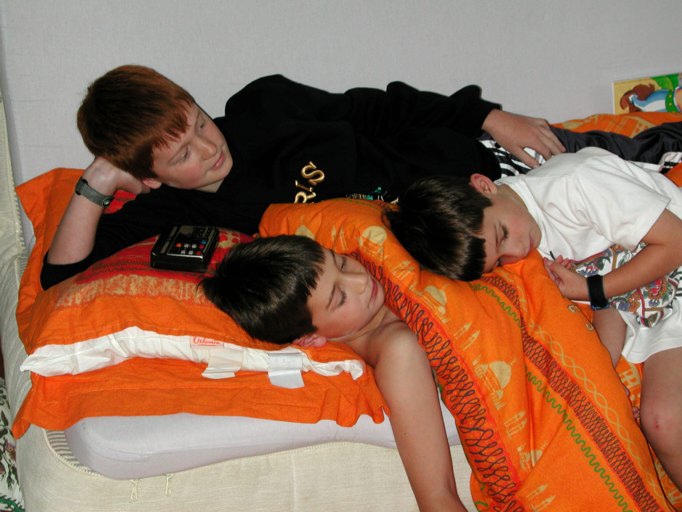 The following day Jean-Yves and an officemate, Luca, left for a conference so I basically followed Valérie around and helped out where I could. She has worked in the group for 6 years or so, and is now a professor at the university. This means that she has a large teaching load during the school year, which begins at the end of September, so she has a couple of weeks left to concentrate on research. In and around the visit of a technician from Spectra Physics who worked on the diode pump laser—and not necessarily to our satisfaction—we managed to measure the chirp on the continuum and attempt a measurement of the transient absorption of a solution of some organic molecule of interest to Valérie. On Friday, Valérie had to proctor exams for those who failed a class last year and are catching up, so I stayed at home and worked on a talk I will give on my research to the group towards the end of the month.
Next week things will pick up a bit as I get going on a project.
Car Shopping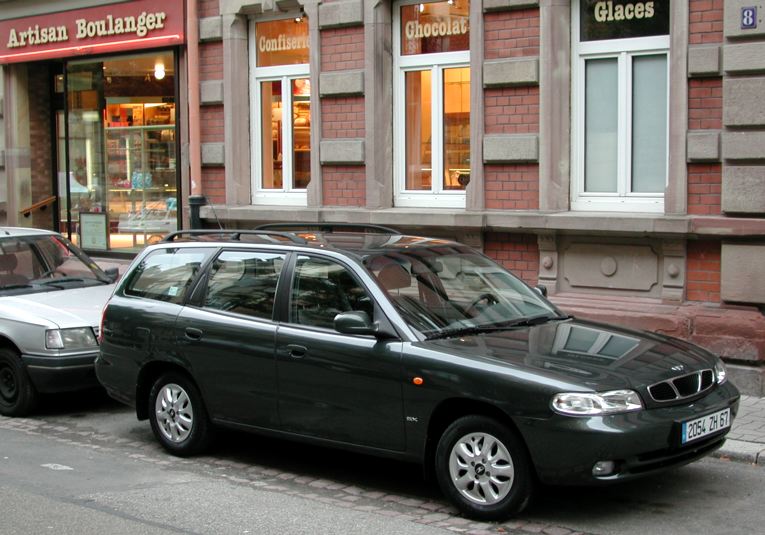 We want a car for flexibility in our weekend outings (and for all those Wednesdays that the kids have off from school). It seems that trying to buy a new car for import back into the States is a loser, so we could either buy a real junker and not care about getting anything back at the end of the year or buy a nicer used car and hope to recover at least half of the cost when we leave. We opted for the latter strategy and are in the process of buying a 1999 Daewoo 5-passenger hatchback/wagon which seems in very good condition. We are buying from a dealership, from which we get a 1-year guarantee (parts and labor), so we figure it's a reasonable way to solve the car problem for the year. We can pick it up on Friday (14 Sept.) provided we can get the insurance arranged by then. Linda will have a job this week!
---
This page was last modified on Sat, Sep 15, 2001.