October 1
Dear All:
I guess we learned that we have now started a new chapter in this awful crisis. I keep trying to register at the American Consulate. I had planned to do it first on Sept. 12, but decided to stay away until things calmed down. I remembered over the weekend that I should do it today. I just called and no one answers, so I assume they are closed again.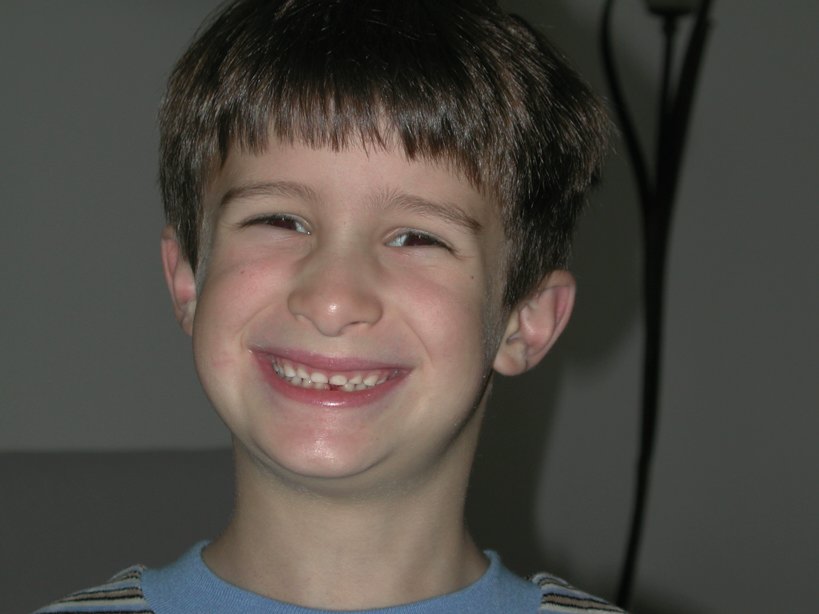 The month started with Ryan loosing a tooth and a visit by la petite souris.
The week began with a visit by "la petite souris" ( the little mouse). If we were in the states, it would have been the tooth fairy. Ryan is the proud porter of the first whole in his mouth. He is very happy to be like his brothers now.
The school week went fairly well for the boys. Ethan was particularly frustrated when he couldn't keep up on a dictation, but we spoke with him and I think he feels better. Brennan had no clue on several questions on a History test, but he seemed to take it a little better. I really have no clue what Ryan does all day, but he goes happily to school, so I guess that's good.
After school on Saturday each of the boys spent the afternoon with a friend. We had three extra boys here for lunch. They seemed to eat lots of knacks, hot dogs, and yogurt. After lunch Ethan left for Arthur's house where his father took both of them to a climbing wall. Ethan loved it. Ryan went with Arthur's brother to the local park. Brennan spent the afternoon here with his friend Jefferson playing different games and doing something. Peter and I left them for about 2 hours for a nice walk downtown in beautiful fall weather.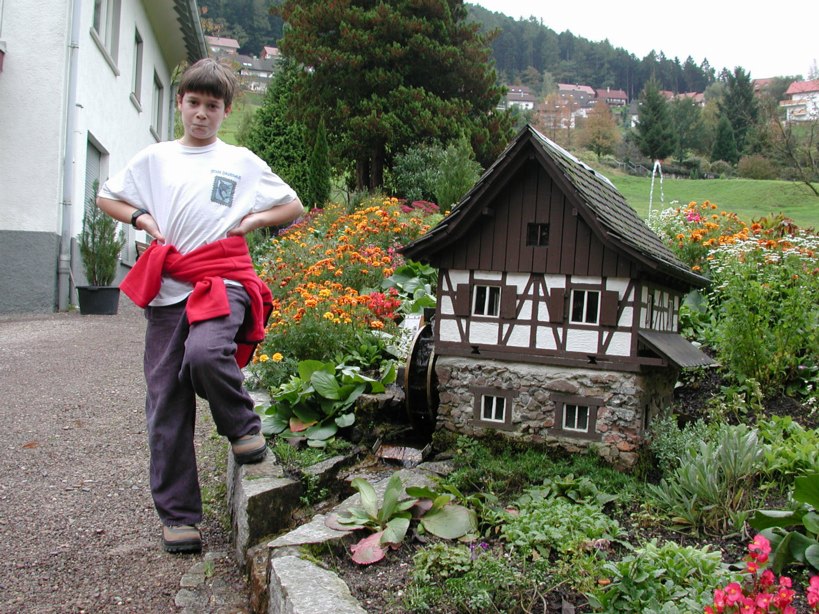 There were lots of water wheels along the path, but this was a nice model.
Our Sunday trip was to the Black Forest. We woke up to rain, but we got such a slow start it stopped raining and turned out to be a very nice afternoon. We went to a small town called Ottenhofen. We took a trail with lots of water wheels along a small stream. The trail went up around the town with pretty views. It was amazing that while we were in the forest, it really was black. On the way back to France, we stopped at the town right on the border and found the town celebration of October fest. We luckily could buy a big beer in Francs and get enough change so the boys could each have a bumper car ride with the change in deutchmarks. Too bad the beer wasn't very good, but we finished it anyway.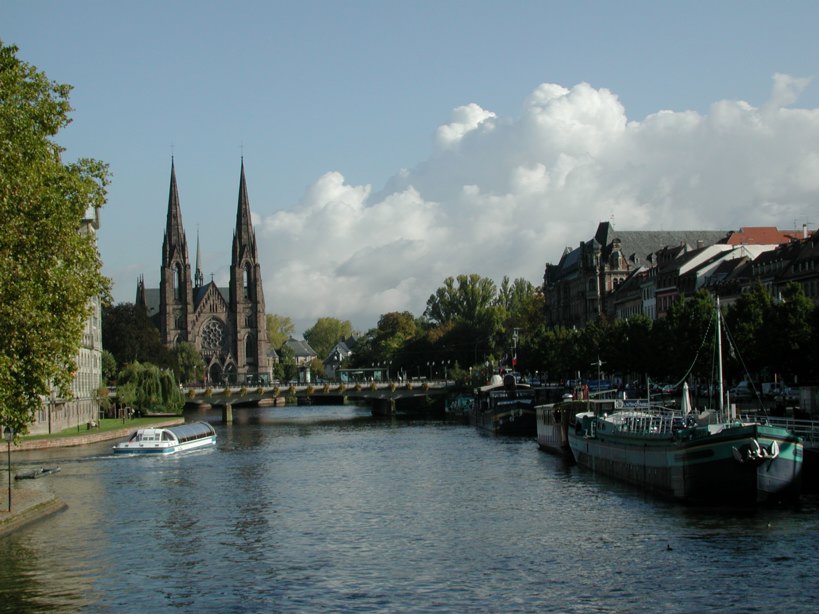 A pretty fall day.
Peter and I then went out to celebrate our 12th anniversary. (We were busily getting the boys dinner so we could leave when the attacks began, so we didn't hear about them until this morning.) After rejecting the menus at many restaurants we settled into a crowded, smoky, small restaurant with the cute name Tante Liesel. She specializes in duck and goose. It was delicious. The slow service gave us the time to finish 2 pitchers of wine and have a great conversation. Towards the end we reviewed all the anniversary dinners we had. Of the ones we could remember, we agreed this was the best! After three hours plus we found all three boys asleep. We found out this morning that they each put themselves to bed earlier than we had even asked. It sure is nice they can do that now. I think we will get them to take care of themselves more often. It seems that the current price is lots of frozen chicken fingers and that I make them for them before we leave.
You should all be getting a cd with all the photos from this summer. Enjoy if you want. We hope that at least one of you will keep it safe as our backup.
Time to get dinner stuff and pick up the boys. Hope all remains good with you.
Love Linda and Peter and Brennan, Ethan and Ryan.



---
This page was last modified on Sun, Dec 23, 2001.