September 25
Dear all:
It has been way too long since I wrote less, but I will try to get caught up by starting with today and working backwards until I have to pick up the boys. Yesterday we had a very nice day exploring the Maginot Line and Castle of Fleckenstein north of Strasbourg. We woke up to more clouds so I decided it would be a good day to be in a underground fort along the Maginot line. It was very impressive as we walked through a 1.2 km tunnel with several detours to see general quarters, telephone communication systems, soldiers paintings on the wall and the armaments. When we got out we were hungry and it was sunny. We had a wonderful lunch at an Auberge and then looked at the tourists books for something to do outside. We drove to the remains of the medieval castle of Fleckenstein. It is built on a rock that sticks out impressively over the surrounding area. We had a charming tour guide. We were impressed that the boys were starting to be able to follow the French. The remains look out over Germany and France. Peter and I discussed that the people in the northeast corner of what is present day France certainly have changed nationalities throughout history. At least for me, its becoming clear why a language like Alsace stays around. Our tour guide confirmed this by saying that her Grandparents were raised in German schools and don't really speak French. They conduct their everyday living in Alsatian. No matter what the government of the day is, Alsatian is still there. It turned out to be a beautiful fall day, warm with the leaves just beginning to turn.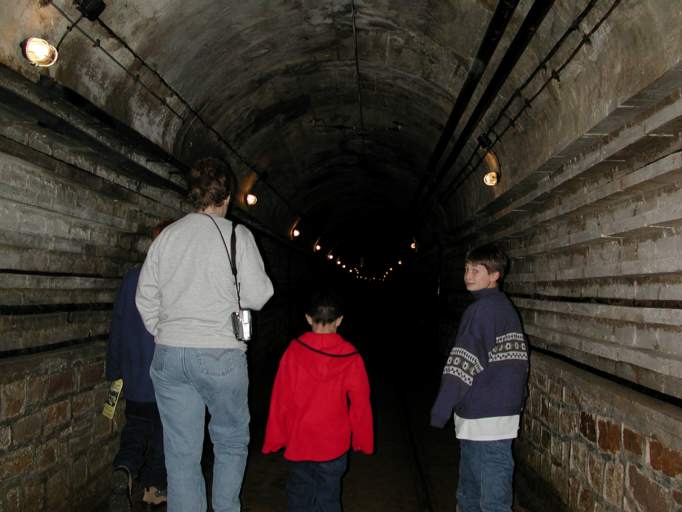 Walking the tunnels of Fort Schoenenbourg on the Maginot Line. The fort held properly, but the German Blitzkrieg made it quickly irrelevant.
The boys had school on Saturday. Unlike last weekend when Peter and I had a great morning together, this Saturday was full of obligations. First, as part of I guess the social security system here, Ryan was required to have a doctor's check-up with the school Nurse and Doctor. It was quite easy and both the nurse and doctor were very kind. I was pleased that Ryan could follow many of the directions without my translation. I was most pleased that he did not have to have another vaccination. I have read since last spring that all children in French schools have to have a BCG vaccine against TB. In the states we just test to see if you have been exposed and then treat. Here they give the vaccine and then test to make sure you are positive, because that means the vaccine worked. It is illegal to give the BCG vaccine in the states. Anyway, every parent here says you have to have it or ELSE. Well, we dutifully handed everyone our yellow cards and no one said anything, until Saturday. The nurse asked where I was from and when I said USA she said, well then you don't have the BCG. Yes, that's right. Well, you will get a letter in January saying that someone from the health department will come and vaccinate your child in May if you give them permission. I explained that we would be returning to the States not long after that. She said, "well, then just don't give them permission and no one will say anything." Its not like the states where you are not allowed in until all the papers are up-to-date. At times the French bureaucracy has its charms!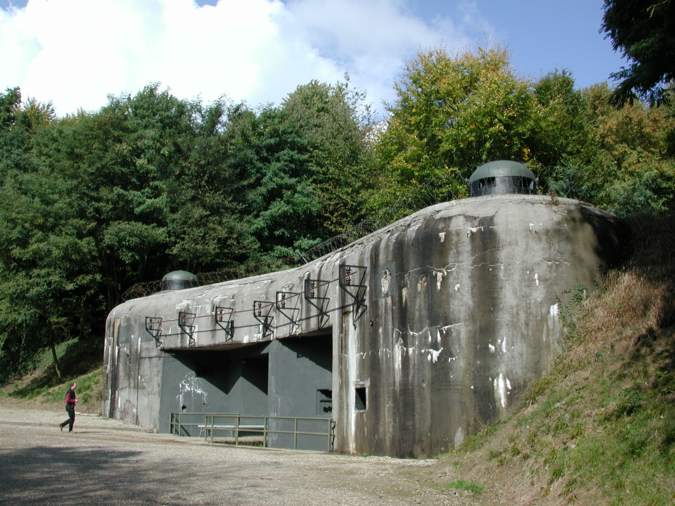 One entry to Fort Schoenenbourg on the Maginot Line.
Speaking of bureaucracy, we are still trying to get our resident papers, which is taking an incredible number of trips to various offices. On the last trip Peter forgot his birth certificate after looking to see that he didn't have to get it translated. We also had a week of shopping for car insurance. I found it funny that all our friends said that it would be better to go in person to negotiate the contract than do it over the phone. (They even said it to Peter, so it wasn't just my French). Peter got the final paper work done on Thursday, and we needed it for Friday to pick up the car. They said they would mail the copies to our house and they would be there the next day. We offered to stop by to pick it up, but they insisted that they would mail it. WE were very surprised when it actually showed up. Some things are incredibly efficient and others.....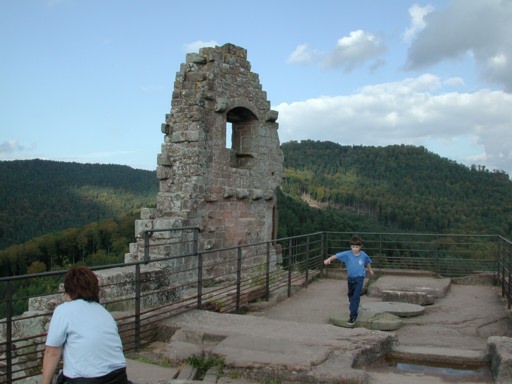 Top of the Château de Fleckenstein near the German border.
Peter was also requested by Ethan to come join his class at a local park and go running with the class as part of their PE class. Peter did and I think is still sore. From now until All Saint's Vacation, they will run on Sat. mornings for about a half hour and parents are invited to join. WE then had the back-to-school meeting for Ethan's class. We really like his teacher the more we find out about him. This is the first year he has a class to himself. I think I heard that teachers in France go through a two-year training program where they work more and more independently. Last year he finished up his training in Vancouver in a French speaking school. He was a physics major in college and is very energetic. From "All Saints" (that's how they refer to the breaks in the school year) until Christmas, Ethan's class will go to a local pool for swimming lessons two hours a week. I volunteered to help in the girls locker room. Since Ethan's teacher is male and so is the teacher in the class who is going with him, they needed some moms to help out. It was cute how red he got when he asked for volunteers! The lucky duck will also take a 10 day field trip to the Alps in March!!! Every other day will be skiing and the other days will be going to lower elevations for Nature lessons. We haven't really discussed it with him because we are hoping Brennan will get a trip like this also.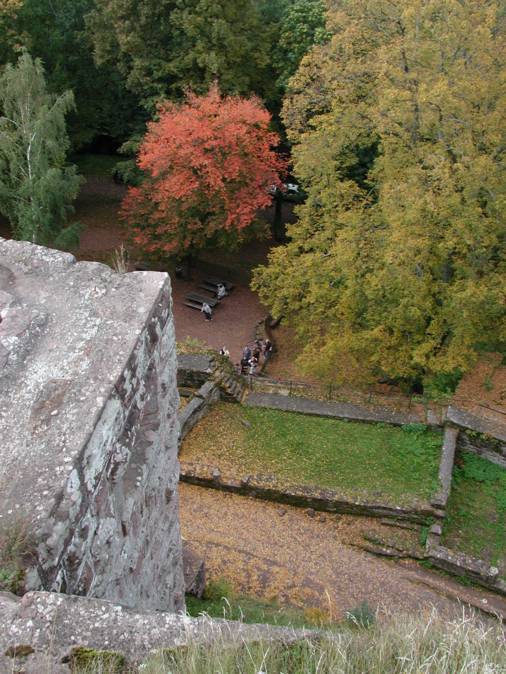 Fall colors from the summit of the Château de Fleckenstein.
After lunch we hoped into our car to go about an hour south of here to hike in the Vosges. It was fun. Afterwards we spent some time in a smoky bar where the boys enjoyed hot chocolate. We then dropped the boys at home and Peter and I went out for a little adult time. The boys had just gotten "Blo Pens" and they spent 2 hours making us a notebook of their work and missed us not at all! Their work was really nice. They did some nice free hand works of the Eiffel Tower, Notre Dame, the trams and our family. It was nice to be able to leave them.
The weeks are beginning to have a certain rhythm. Ryan and Brennan now have violin lessons about a block away at the Suzuki school. They seem to like the teacher and are a little rusty after the long break, but both seem to like doing it again. We could not find a cello teacher so Ethan will do track and Field on Tuesdays nights. Wednesday, even though note of the boys have school, I conduct French lessons for the boy for 3-4 hours. Last week was one of the best mornings. It won't be long before they won't put up with my accent. May be I can stay ahead of them when I start my pronunciation class Oct. 16th.
This past Wednesday the two older boys had friends over, we all went to the park. When they left we went to a sports store with the mother of one of Ethan's friends. She has been very concerned that we don't have the right clothes for winter, so she wanted to make sure we knew where to shop. The ski jackets weren't in yet as September is suppose to be warm, but I did buy "hiking/wear-to-school-in-the-rain-and-snow" boots for the boys. Dad and I were so jealous we bought some for ourselves on Friday. Our shoe sizes European-style are 31,38,39,39, and 44. Yes, both boys have feet bigger than their mother. When they outgrow their boots, however, I will still be able to wear them (with two pairs of socks).
It has been fun trying to teach the boys how to dress in colder climates. Brennan and Ethan have both come home from school and have commented that their friends have these nice, heavy coats. Usually September is suppose to be summer-like, but we haven't had many days above 70 for a long time. The boys are looking forward to heavy coats and like the idea of not wearing "baskets" (tennis shoes) all winter long. We had a little bit of a misunderstanding about the purpose of long-sleeve shirts. They thought that they were to be used as jackets! I told them that no, these were shirts and they were to keep them on after they take off their jackets. They now feel warmer in class!!
The previous weekend we went to a horse show in which the boys "tutor" was a main participant. It was a little long, but interesting as I haven't ever been to one. Cath- she wants an English/American name, is a math major here and is very nice. Some friends of friends here sort of decided before I had a chance to say anything that we could use a college student to help the kids with their homework about two hours a week. They even called around and proposed her. As it turns out, I think its a great idea. Since the boys can't do very much independently, its nice to have the help. Also, it forces them to speak French. She can also make the papers look "French".
School continues to go well. The novelty has worn off a bit, but Ryan still skips off to his line and Ethan loves making new friends. He is especially pleased to learn the game of marbles and is sure it would never be permitted in California, which makes the game that much more fun. Brennan seems to be understanding a lot more in class. He had two different friends over this week (one who speaks English and one who doesn't). He was also very happy when his French teacher didn't show up. Since they don't have substitutes, he joined in a game of soccer and "just hung out" with some in his class. I'm happy he didn't just run home as it was the last class of the day.
Well, this is more than anyone would really want to read. Hope all is well with you. The national papers here still spend 3/4 of the space talking about the reactions to the attacks. Le Monde had a full 8 pages yesterday about the history of Afghanistan and the current political situation there. That was after about 4 pages of other general news about the current military political situation throughout the world. Le Monde also translates an opinion piece everyday from some American paper. (They also translated Bush's speech to Congress last week. He reads funny in French).



---
This page was last modified on Sun, Dec 23, 2001.