November 4
Dear All,
We are back a day early from our 4-day trip to Germany and Austria. It seems that the best part of the trip from the quick vote I just took was the tour of the Salt mine outside of Salzburg, but I will get back to that.
We took off a few hours later than expected on Halloween morning. (We decided since Ryan and Dad were getting colds we would let them sleep as long as possible). We seem to always have a hard time finding the route out of Strasbourg, but finally we find the huge bridge over the Rhine and were in Germany. Besides the fact that we don't understand the language the biggest difference we immediately noticed was that there were McDonalds AND BURGER KINGS. Although we have yet to eat at a McDonalds here in France we stopped for lunch at a Burger King. Luckily we could pay in dollars. The difference in attitude towards credit cards and ATM machines between France and Germany is amazing. Almost everywhere in France you can use a credit card and ATM machines are everywhere. In Germany, we had a hard time finding restaurants, hotels and shops that accept credit cards. (Places that really cater to tourists do, but the hotel we stayed in the second night just got a credit card machine. We were one of the first people to use it. In fact when we checked in they told us that we could not pay by credit card. (We were going to find an ATM machine-we were told we would have to go quite a distance to do that). After bringing our bags up we went back down for dinner. We were stopped and told that the women who we talked to didn't know that 5 days ago they signed up so that they could get paid by credit cards.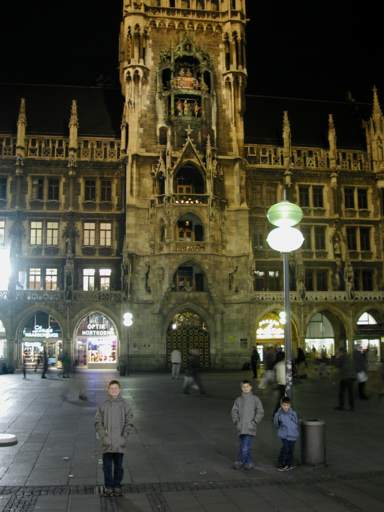 The boys with their new coats at the Neues Rathaus in Marienplatz.
But, in Germany its easy to pay in dollars almost everywhere! They use the easy to remember 2 marks to the dollar and its done! We are looking forward to the Euro which starting Jan. 1 will make all this changing between Francs and Marks and Shillings (Austria) obsolete. In Austria we could almost always pay in Marks, but we didn't get far from the Germany boarder.
Back to the story... Anyway, traffic was horrible and it took forever for us to get to Munich. We stopped in Dachau on the way in. We didn't really see much of the museum because it was clear it would be too hard for the boys. We did walk around the grounds and Brennan and Ethan were clearly moved (as were we).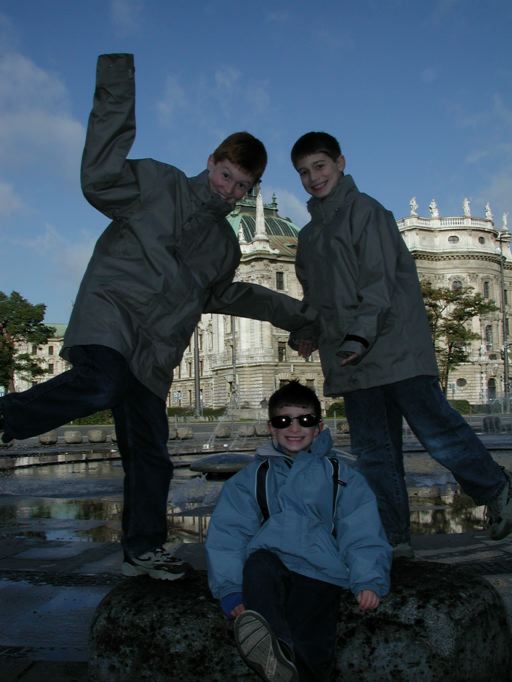 Cool shades at a fountain near downtown Munich.
We found a hotel in Munich. (The boys were impressed that we actually sprang for a 3 star hotel.) I think Peter and I were more "impressed" that it was near the train station and, thus, lots of strip joints. (We did not mind paying the $9 for parking in an underground garage that required an escort from the hotel to get to.) It was a nice 15 minute walk to the main old square in downtown Munich. After telling the boys they had to bring their heavy jackets we walked downtown to look for dinner. We were hot walking down and found a nice outdoor restaurant to eat snitzle and other Germany good stuff devoid of vegetables. (I had joked on the ride that the candy corn my parents sent the boys for Halloween would be our vegies for the day, and it seems I was right). We sat next to a guy who spoke English very quickly. He had spent 10 months in San Fransisco and Santa Barbara going to junior college and learning to surf. (He learned that he should have learned to surf somewhere else) He was very animated, taught us how to order dark beer and gave us some ideas on what to do with the kids the next day. We took a slow walk back to the hotel admiring all the beer steins in the shop windows. Just as we got to the hotel Ryan and I felt raindrops. Within 10 minutes it was pouring.
Inside Frauenkirche on All Saints' Day. After taking this shot I was reprimanded by a guard for taking a picture during mass. I put away the camera, but then saw the guard signal angrily to remove my hat (which had been off my head until I started fumbling with the camera to take the picture). I'm not sure which circle in hell awaits...
We woke up to a huge breakfast with salami (an Ethan favorite) and yogart with chocolate cereal. It was a beautiful blue day but freezing. We found out that the museum we were looking forward to seeing was closed for All Saints Day. (I thought they didn't do that in Germany. Generally, Germany doesn't celebrate All Saints Day, but Bauvaria does. Anyway we had a nice walk to see the buildings in the light that we missed the night before. St. Marks(?) Church was actually in use (a benefit of All Saints Day) and we heard a beautiful Mozart piece form the choir. We went into "Our Lady" Church. Peter showed his lack of Catholic upbringing. He did remember to take his hat off when he entered. But when he wanted to take a picture, he didn't know what to do with it, except put it back on his head. Taking pictures and wearing a hat got the ire of some guy who scolded him. We stuck around for a few more minutes and then enjoyed the cold air outside. We waited for the Glockenspeil to do its thing at 11:00 with lots of other people. We all waited and waited and at about 10 past we decided to go back to our hotel and head out to Salzburg.
It was a beautiful ride through a valley in the Alps to Salzburg. We went to the tourist office in the train station and found a nice place to stay outside of Salzburg and went off exploring the Fortress and the Mozart musuem. It was beautiful and charming. After sort of figuring out the one way streets of Salzburg we found our "Guest House". The boys kept trying to speak to the people in French when it was clear that English was better!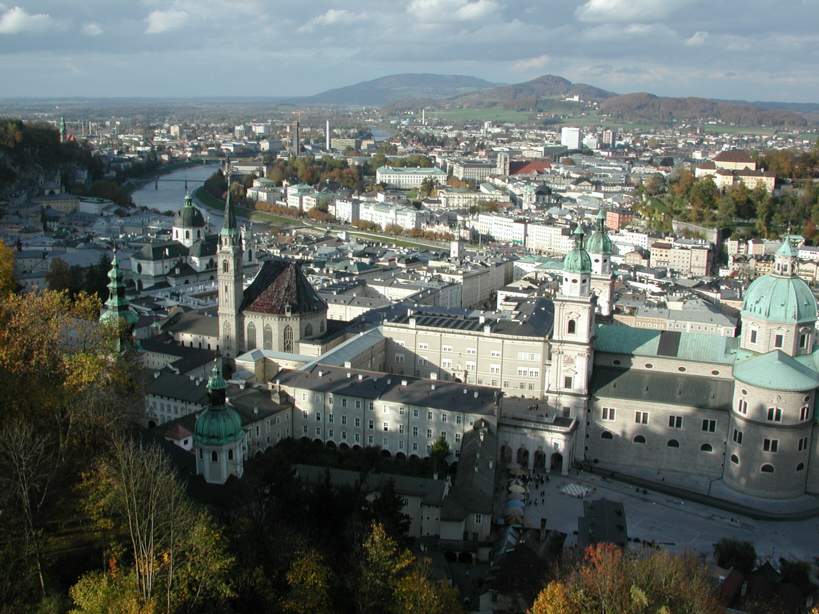 Salzburg looking north from the fortess and the Salzach River.
We woke up to another beautiful sunny but cold morning. We went into Salzburg again and walked around the Mirabell gardens, the boys sang a little "do, re mi" by Pegasus (the movie was better) and saw the church. We were all excited about getting to the salt mine outside of Salzburg, so we left before noon. The tour of the Salt mine was fun. As it turns out, the Celts first mined salt there 1200 years ago and there are still some remains from that time. In the middle ages, people got really serious about mining salt and developed an interesting technology. They would fill the mine with water and the salt would disolve in the water. They would then boil off the water. They even figured out a way to reuse some of the water. An improvement of this system was used up until the time the mine stopped being mined about 10 years ago. We got to ride in a boat through one of the lakes formed this way. It was very calm!!!
The mine was fought over throughout the time by the Germans and the Austrians as it is found right on the border. On our tour there was a big sign announcing when we crossed back and forth into Germany. It was very interesting to be underground. The most fun was when we got to slide down these relatively long slides that had been used by the miners to get into the mine. It nicely warmed up my behind!! There was a long escalator and an electric train to take us back out and up.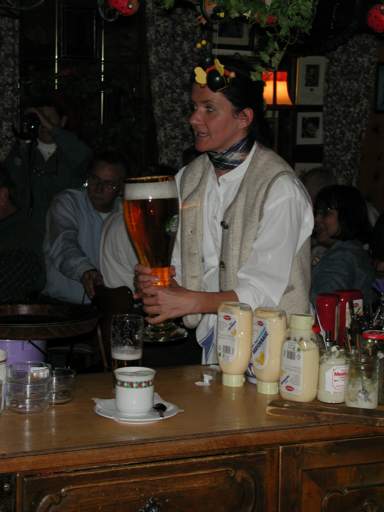 Can you tell that we're in Germany?
We then had a beautiful 2.5-hour drive to Garmisch-Partenkirchen. It is a beautiful Alpine town. We stayed just in the middle of town. Just as the sun was setting we got in a nice hike in the hills above the town. The Alpes are incrediable. We signed up to eat at the restaurant attached to our hotel at the 7:30 setting. (After the hike we were mean parents and made the kids do about an hour of homework while waiting for dinner. To make it more palable we found an "A & P" (the real chain from America that was right across the street from our hotel) and bought a few snacks). When we arrived at dinner there was a nice American family finishing up their meal. Since September he has lived in Nuremburg working as a programmer. She is in the Army stationed in Florida and hopes to get out soon. She was suppose to get out in 20 days but may not be able to. I really didn't ask for details. The little boy with them was cute. The "husband" (we really don't know the exact status of the three of them) seems to have learned how to read German menus since September and helped us order some very good things. We had a nice meal and enjoyed watching the others in the restaurant.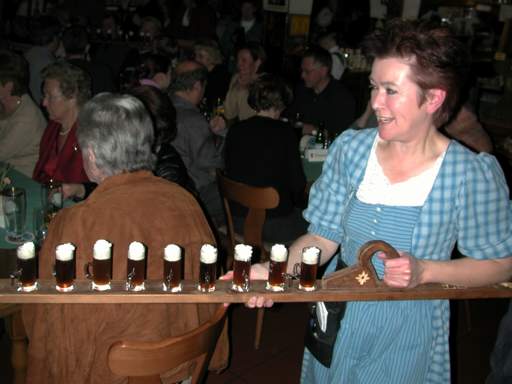 And a fine time was had by all in an inn in Garmisch-Partenkirchen. Smoky, too.
There was a typical Bavarian band and there were two long tables full of people who were clearly celebrating something together. They would sing along with the band and just kept going and going. Peter and I were impressed by the wide range of ages at the tables, even though there were no young children. Peter and I felt like it was all very teutonic. The two younger boys got tired and went up to our room. That left enough room at our table for a family of three to join us. They were also from Nuremberg,she was an art teacher and he was a dentist. They were with their 10 year old daughter. They said this was there first time in this region and that the singing and celebration was really not typical of all of Germany. They helped translate some of the songs. It seems that they mostly revolve around pretty girls. As the father summarized "not a very heavy message, but universal". I think they seemed to put a nicer face on what we were seeing. They seemed to also think that the dancing etc. was "different". We also spoke about the "heavy feeling" in Nuremburg because of the history that took place there. Peter and I have both had mixed feelings about what they were saying in that some seemed contradictory. It was hard to carry on a sustained conversation with the loud music. The younger boys came back down to see what was taking so long. They got to see them pass out sparklers in celebration of something that not even our tablemates could figure out.
The next day we woke up to lots of frost on the windows. We took a brisk walk around town and "admired" the drawings on the buildings. Boy, do they have lots of cleanly painted buildings with lots of people with halos. Not our style at all. We liked the one with pictures of the winter sports however.
We then took off for Neuschwanstein. It was another beautiful ride. We got tickets and hiked up to the castle. We had a nice snack while waiting for our English tour to begin. The setting was beautiful and the design of the castle interesting. The tour seemed to leave more questions than answers. It seems that this was the last castle of Ludwig II. Most of the rooms are unfinished. It seems that some Dr. decided he was mad and he was carted away to Munich in 1886. He died, some say suicide, some say may be something else the next day. What was not even mentioned in the tour was that supposedly Bismark had unified Germany many years before, but up until 1886 this King could collect enough money to build this and many other Castles. All this was ignored in the tour and we could just look at his ostentatious rooms. After the tour we went for another short but steep hike up to a bridge from where we had a dramatic view.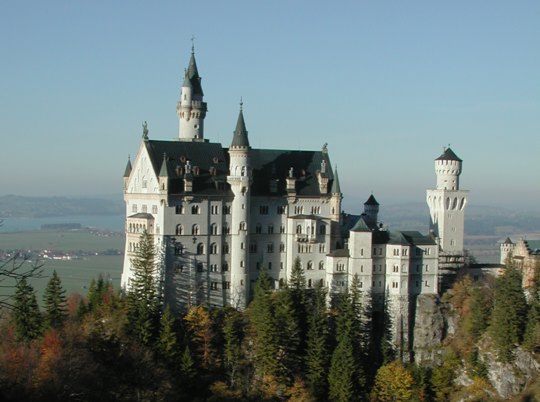 King Ludwig's monument to Wagner at Neuschwanstein.
Our original plans had us driving up the "Romantic route" and spending one last night in one of those villages. Less than an hour up the route, the sunset and we decided just to get on the autobahn and get home. I think we all felt like we had eaten and drunk enough and there was a lot of homework left to do before Monday. We got home by 9 and were happy to sleep in our own beds.
Sunday was spent catching up. By 2 in the afternoon we treated ourselves to a pretty walk downtown. The air was crisp and Peter and I enjoyed warm chestnuts. The boys love crêpes and beignets (like jelly doughnuts).
Well, its taken me a long time to get the letter out, its almost time to start the next one. We hope all is well. Its actually nice that the main news here has been the resumption of the flights of the Concorde.


---
This page was last modified on Sun, Dec 23, 2001.