September 10
Dear all,
Everyone has left for work and school and I have a few minutes to bring you up to date on the weekend.
Saturday morning was busy as all the boys have school. The two younger ones go from 8-11 and Brennan goes from 8:15-12:15 which includes two hours of French. All the boys came home happy and we all felt like it was a very successful week.
Peter decided, and we all agreed that it was time to look for a car. So in the pouring rain we went off to a used car lot that many people at Peter's work had mentioned was pretty good. Luckily we did not get there before 2:00 as it, as well as most of Strasbourg observes the two hour lunch break. It is very hard for me to get used to, but in some ways its a nice way to remind you to slow down and enjoy the people you are with. Anyway, it was just opening up and we ducked into the huge garage/showroom area to get out off the rain which seemed to be getting colder and colder. We looked around and got a little discouraged at first. We then got the attention of a salesman, and he pointed us in the right direction, which meant we had to go out in the rain and look in the back of the garage in the very small by American standards lot. We found a green, 1999 Daewoo station wagon with a one year guarantee on parts and labor. As Peter explains, we could have gotten a real junker, and then not even worried if we couldn't resell it in the end. Or, we could buy something that we would be willing to resell at half the price in a year, but would be a little nicer. I liked that this one had airbags, nice rear defroster, ABS breaks and other features. Now I have to figure out how to get auto insurance before we can pick it up on Friday.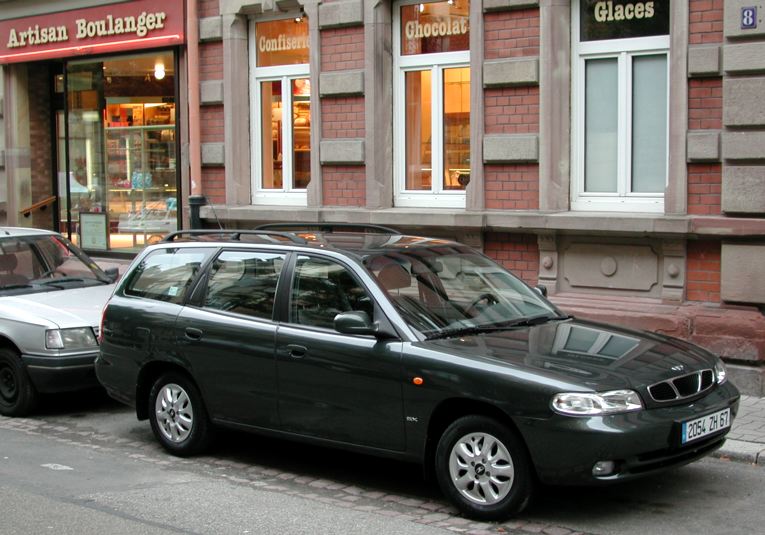 Our «new» used car, a 1999 Daewoo Nubira 1.6 SX.
After putting a deposit on the car we still didn't feel like going home so we went to the main section of town. Peter looked for more books to read on his commute and I went to find touring books to go with our car. I found on that has 100 suggested outings withing 4 hours of Strasbourg geared to families. Besides a great Car Museum about an hour from here, there are suggestions on skiing in the Austrian Alps that they book says is only 3 hours and 20 minutes from Strasbourg!! The first place we will probably go is to some of the big department stores in the suburbs and buy some winter clothes!
Sunday was another rainy day which we didn't mind as we spent a 5 hour lunch with a British family whose youngest is in Ethan's class. I hope we didn't overstay our visit, but we had a great time. They have lived here 11 years and have a huge apartment with lots of toys, many of the electronic version and they were full of hints on living in Strasbourg. It certainly is nice to have them nearby.
We came home to finish homework and pack the school bags, which seemed to take forever. Then off to bed.
We hope all is well with all and that everyone had a good start to school.
Love Linda and family



---
This page was last modified on Sun, Dec 23, 2001.